What is Texting and How to Take Advantage of It
If you are not familiar with the term "sexting", let us enlighten you a bit. Probably, you are aware of what is texting. Sexting is the same exchange of messages, pictures or videos. But in the case of sexting, the content that you are sending, receiving or forwarding is sexually explicit. While the term first appeared in 2005, in the article of Australian Sunday Telegraph, "sexting" started being listed in dictionaries only from 2012. So, it is a term now, and not some nonsense.
Sexting is one of the best ways to turn your partner on from the distance. Actually, the hotter your sexting is, the hotter your in-bed activities are. Besides, you have a lot of options that sexting includes. If you are not good at writing, your sexting conversations may involve pictures or videos. There is Snapchat sexting, emoji sexting, and even your Skype conversations that involve exchange of explicit content may be regarded as sexting. Thus, the more explicit content you send to your partner, the hotter your sex may be. Basically, all you need to make sexting work for you is knowledge about your partner's preferences and some imagination.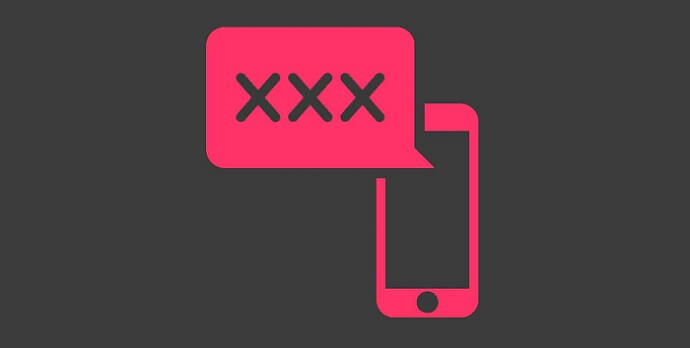 Is Sexting Cheating?
"Oh, that meant nothing...", you may say to your partner, after being caught red handed sexting. Yep, according to the Pew Research Center sexting doesn't necessary mean the exchange of explicit content between people who are romantically involved with each other. Anyway, sexting with someone else when you have a partner is not a great idea. Though, everything depends on your partner's attitude. Mostly likely your significant other wouldn't be that pleased to know that you're sexting messages with someone else. And then you can say that it wasn't your fault, as you have a sexting addiction, speaking of which…
Sexting Addiction
People get addicted to alcohol, to drugs, to porn, to masturbation, why can't someone be addicted to sexting? But when you decide to blame your sexting with someone else on addiction, don't be surprised if your significant other would roll his or her eyes. Actually, scientists would also roll their eyes. You see, the so-called sexting addiction may be part of sexual addiction, but it is not considered a stand-alone addiction. Sexting does result in a rush of dopamine to your head, but so do cupcakes. Are you addicted to cupcakes? Thus, your random sexting may be a result of the uncontrollable behavior if you have a hypersexual disorder. That indicates that most likely you had a childhood trauma that led to your brain being deregulated and more of the shrink's blah-blah-blah. To cut a long story short, it is better to avoid exchanging explicit content with anyone but your significant other. As hiding behind something as sexting addiction would lead to visiting you shrink more often than you do, as your significant other would think that you have some serious psychological disorders.
Tips & Examples for Sexting Your Partner
Of course, we've assumed that all you need is your imagination, but sexting is an art, thus it may be useful for you to learn certain tips. Sexting conversations are definitely hot, yet risky business, as you never know what level of explicitness your partner can bear. Someone may be looking forward to receiving a dick-pic from you, while someone may just break up with you after receiving a way too graphic message about what you would like to do to him or her tonight. That's why you need to know your partner's preferences. So, let's dig into our list of tips and examples for sexting your partner.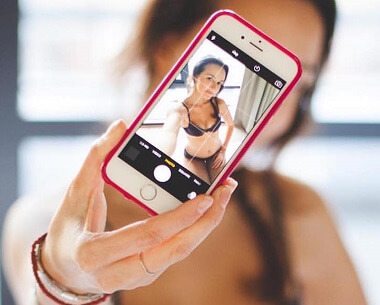 How to Initiate Sexting
There are some lucky couples who start a sexting conversation spontaneously, but mostly it must be consensual. Which means that you should talk with your partner about sexting, or, if you've already started and your partner doesn't seem so eager to continue, stop sending suggestive messages or intimate pictures. While it may be considered one of the sexting tips for guys, girls must mind that not all guys are happy about receiving explicit content from you. Moreover, non-consensual sending of intimate pictures can be regarded as sexual harassment. Now, you see why you need to talk with your partner in advance. If you want to initiate sexting without discussing it with your partner, start with something naive and innocent, like "What are you wearing right now?" Also, make sure that your sexting is a dialogue, as full-blown pornographic monologue is definitely not a good sign.
Be Mindful and Creative
Being creative is important. If your sexting ideas were boring, what's the point in starting it? Sometimes you need to go straightforward, sometimes you need to go in for metaphors. But you shouldn't overdo it. When you go in for a way too descriptive messages of what you are going to do tonight, your partner may simple ask what's the point in talking about it right now, as you are simply spoiling the evening. Plus, your partner may be disappointed if you skip certain scenes from the script, which is your sexting conversation. Speaking about metaphors, you shouldn't overdo it too. You know that there are awards for worst sex scenes in literature? Well, when you go in for stupid metaphors, you may not end up on the list of the Literary Review Bad Sex Award nominees, but your partner may be not impressed. You know that jokes may kill sexual intimacy? Well, unintentional jokes do it way better.
Spelling and Emojis
While spelling may seem useless in the digital era, it turns out that people won't be impressed if you make a lot of errors. Psychologically, it goes this way – if you don't bother to type your suggestive messages properly, most likely you won't be quite attentive and devoted when in bed. Moreover, digital era is definitely not your friend. You probably know that auto-correct is your "worst enema", as your partner is definitely not looking forward to get "ducked hard" in the evening.
You should also pay attention to the emojis. Sometimes it's better to send a straightforward dick-pic than substituting it with the eggplant. Basically, it works the same way as embarrassingly stupid text metaphors. And don't use winking face each and every time. For most people it works as an ultimate turn off.
Express Yourself
There is no point in reading any of those romance books for sexting, as you need to express yourself, and not channel erotic fantasies of an author that might be already dead. Moreover, if you never discuss your sexual fantasies and desires with someone face-to-face fearing the very possibility of embarrassment, then sexting frees you from that limit. The main point is expressing your wildest fantasies. You can get as kinky as you want if you partner is into it, so express yourself. Besides, there is already something sexy in saying what you want and how much you want it.
While you might have felt paralysed upon learning that sexting is an art, it concerned only execution. While someone may discover your sexting conversations and base another romance book upon it, you don't need to be Danielle Steel for sexting. Sexting doesn't require being perfect to be fun enjoyable.
So, there is no need to force yourself into writing the most erotic things possible. Things go smooth as long as you are honest with your self-expressing. When you start pressing yourself, you might become a contender for the Literary Review Bad Sex Award, and as we've established it doesn't work for impressing your partner.
Sexting Examples
While we went all through the article talking about how you should be expressing yourself and use your imagination, it would be quite unfair to leave you without a few sexting examples. Those might work better as starters for your sexting conversation, but you should have a look at them anyway. So, we offer you to check out our top 25 sexting conversation starters examples without further ado. Oh, and don't forget to use your imagination.
What are you wearing right now?
Are you alone tonight? How about playing some game?
I was thinking about you in the shower today.
I will see you in a while. I have got a sexy surprise for you.
What do you want me to wear later tonight?
Silence is so teasing, but your messages can be even more teasing.
I'm sure you know how to push the right buttons.
I get a feeling you're an apt student, wanna learn something about love?
Why are you keeping me starving?
Next time when I am around you, wear something that keeps me guessing.
Want me to become your prisoner tonight?
Can I have my way with you?
If you could read my mind, you would start feeling really shy around me.
How can you turn me on so easily just by looking at me?
The next time you pass me by, I'm going to go crazy.
Can I be a part of your wildest fantasy?
I got a whole new way to love you. Want to know what?
I feel like having some peaches and cream tonight, with you.
How about chocolate syrup all over...
I'm so horny, and missing you right now.
I feel wasted just by looking at your pictures.
I know what you want and I think I am ready.
Would you please examine me from top to bottom?
I have heard that you should not fight it, if you like it.
What about watching "50 Shades of Grey" together? I've heard that sex there is so bad that it immediately makes you want to do it in a right way.
Am I a Sexting Expert Now?
So, much have been written about the term which became a term less than ten years ago. While all those rules and tips may seem confusing and hard to remember, sexting is not that difficult as it may seem at first. Sexting is really important in digital era. It works pretty well for those who are in long distance relationships, and it may work for you if you are looking for a partner online. Moreover, dating apps like Tinder go hand in hand with sexting, thus you can't avoid it, unless you are an Amish. But if you are, there is no way on earth that you are reading this article right now. So, mind the rules, follow the tips, and don't forget to use your own imagination.