Content:
If it's winter outside, this doesn't mean that you should imprison yourself forever under a warm, comfortable blanket. In winter, people fall in love too, look for a single girl online (or a man), and even go on the most romantic dates in life.
Even though winter cold limits the number of places where you can have a date, this doesn't mean that you should abandon them at all. There are, of course, typical winter pastime options, for example, skiing or ice skating or drinking a cup of a typical New Year's drink – hot chocolate. But there are many more ways to have a great winter day together. So, are you looking for some winter date ideas? Maybe one or more of the following options will appeal to you.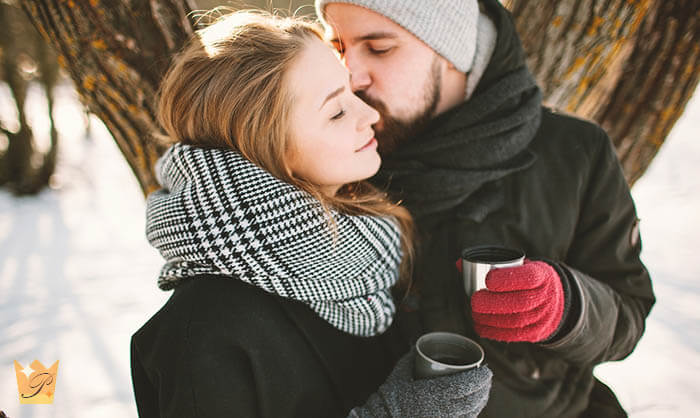 When men want to meet a girl now, they face the problem of where to find her. Then they think about where to invite her in winter as it is much more difficult to solve this problem than in summer. But even in a small town, there are many great places to organize a fun pastime and closer acquaintance with a girl.
To prepare for this event, it is advisable to find out about the tastes of your girlfriend. If she terribly hates the cold, then she will try to escape to some warm place after half an hour. For such heat-loving ladies, it is better to have a romantic date in a cafe, an indoor water park or at an exhibition.
What are good date ideas during winter? Think about the place where you live. Find out what unusual and interesting places are in your area, for example, with beautiful views. And if you find something really original, then it is the place where you can organize a romantic date with a girl. For example, go to the winter forest or a beautiful lake. If you don't know how to interest a girl, you can attend interesting outdoor sports and cultural events with her. An even more wonderful way is to take a walk in the park in winter. In general, walks in such places always set girls to a romantic mood.
In the cold season, it is not easy to spend a lot of time outside. Possible places for dates in winter are divided into the following categories – outdoor activities or warm places. If your woman agrees to spend the whole day with you, then you can make the upcoming event even more interesting by planning an entertainment program at several points at once. What are some winter date ideas?
Ice skating
Depending on the conditions for this in your area, it can be either a city ice rink or just a cleared pond or a frozen river surface in the countryside. In fact, the first date and ice skating only at first seem to be incompatible things. Such entertainment is always a lot of positive emotions for you and your girlfriend. You need to take the initiative into your own hands, support and teach her skating. This pastime immediately brings together.
Water park
It is a great contrast. From winter to summer. Water, slides, joy, and emotions. But in this case, be careful when inviting the girl to the water park. After all, she will have to undress and appear in front of you in a swimsuit. There are different situations, someone will be embarrassed and will refuse under a specious excuse. Or maybe her swimsuit has gone out of fashion, and she has not yet bought a new one. So, maybe it is better to get to know each other better and go to the water park on the second or third date.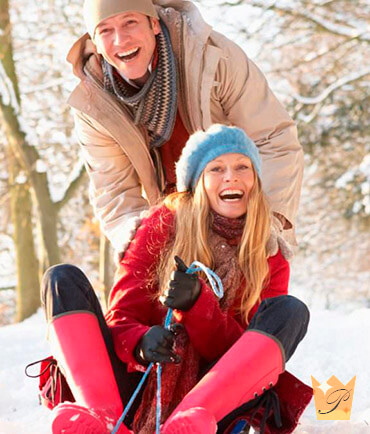 Sledding
This is one of the good winter date ideas for teenage couples. What could be more fun than sledding down a snowy mountain as in childhood? Take the sled and go to slides. Even other people will not bother you. After all, on a sled, you can always be together. And it's so romantic to gently press her back to your sheepskin coat. This entertainment will be remembered by both of you for a long time.
Go for a walk
The walk sounds corny, but it can be unforgettable. We know how you don't want to leave your home in winter, but you can wear warm clothes, and you will not feel cold. Dress warmly, take a thermos with warm tea and go to a beautiful park. Trees covered with snow, frozen rivers – as if you are plunging into a fairy tale. Against the background of a snowy forest, very beautiful photographs can be taken.
Winter fishing
Many girls find fishing a rather boring activity and not very good outdoor date ideas in winter, but some of them like it very much. Although it's worth it to behave quietly on ice, you can go from the opposite. Who will forbid you to run, slide on ice, play improvised hockey, laugh, and then still return to fishing and drink hot wine or other drinks?
Cafe
It is a classic type of leisure for any season, but it is most popular in winter. Choose conceptual quiet establishments, preferably non-alcoholic. Smoky sports bars with beer and obscene comments are definitely not suitable. If this is your first date, then before choosing a cafe, find out from a girl her eating habits. What if she turns out to be a vegetarian? That is why you should come up with first date ideas in winter in advance.
Photo session
Many girls like to take selfies everywhere. It is possible that your new girlfriend loves taking pictures too. Therefore, take a camera with you and arrange a date-photo shoot. There are a lot of emotions and reasons for fun, especially since you can choose several places at once for photoshoots so that it is definitely not boring. By the way, don't forget to ask people to photograph you together. And then, you can go to a cafe and a restaurant to warm up.
Roof date
Are you looking for ideas for winter date night? Well, freezing at the very top of a skyscraper is a dubious pleasure for the girl, but you can organize everything perfectly even in the most unusual places. An unusual date in the winter on the roof can be comfortably spent with a cup of tea in a romantically decorated corner. Besides, there are special cozy platforms for panoramic glazing, well-protected from the winds. Almost under the stars in a well-prepared place, it's nice to spend time and create romantic mini-photo sessions.
Spa treatment
If your relationships are not so close, then you can just visit the spa together. Cosmetology specialists will help you choose a procedure or an entire program for two. Here you can relax and enjoy the refined atmosphere of the SPA center without parting with each other. This is really one of the cute winter date ideas.
Snowman and snowballs
Don't think that only children are allowed to engage in such winter "nonsense." If you want to feel like a child again and, at the same time, breathe fresh air, then go with a girl to make a snowman or throw snowballs. Just don't forget to wear mittens or gloves.
It can be uncomfortable outside in winter, but this time of year provides a lot of opportunities for romantic dates. What are the winter date tips?
Listen to her wishes
It doesn't matter whether you are implementing first or second date ideas in winter, but if you see that the girl is frozen after a long walk through the winter city, don't force her to see another attraction. Listen to her, perhaps a glass of warm mulled wine will be very appropriate, and the romantic twilight seen from a cafe can bring you closer. So, listen to her wishes.
Bring flowers
Almost all girls love flowers. This is a sign of attention, which is always pleasant. But if you have planned an active winter day, then the bouquet may be superfluous because the girl will have to carry it in her hands. If there is an opportunity to present flowers at her home and only after it, you can go for a walk, then this is a wonderful alternative. A beautiful reminder of the meeting will be at her home, and the girl will remember you.
Don't go on a date with friends
Try to make it clear to your girlfriend that she is the only one who is interesting to you and that you don't need other people to talk to. There are exceptions when dates occur with friends, for example, two men and two women or this is the first meeting to introduce her to your friends. But in other cases, it is better to think twice before taking the third person on a date.
Have a great time
In different parts of the world, two people in love can feel well together. But if the chosen place turns out to be not the best, make this date unforgettable at the expense of something else. Let it be funny jokes, unexpected offers, non-standard solutions. The main thing is to change the current situation in your favor. This will be another good impression of you as a person who knows how to find a way out of any situation.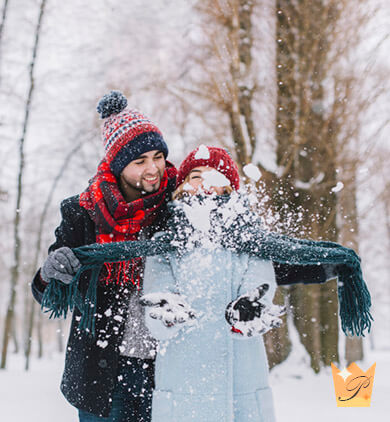 Be romantic
Many believe that everything in the guy "dies" at this time of the year, but this is not so. Just in winter, in the absence of warm party places, a forced break occurs. The loser says that cold interferes with dating, a professional seducer considers cold their ally and uses it to their advantage. And the secrets of dating work at any time of the year. For example, there are opportunities to get acquainted right on skis. You just have to do it romantically.
Now you know the best date ideas for winter. But one more point is important – how to behave correctly or, in other words, what can and can't be done on a date?
Spend more time online
In our age of high technology, communication is gradually moving into virtual space. Online dating is convenient, and there are a lot of opportunities for online friendship. Cold season is a great time to go online and meet new people. In winter months, people are always online on dating sites. So, take your chance, find a couple, and go on a date together.
Don't be afraid to be a child
In winter, different activities can make you feel like a big kid. Turn a date into an adventure. The more active your date will be, the more pleasure you will receive. And a girl will connect these emotions with you because it is you who was next to her at the moment of their occurrence.
Drink more hot drinks
Winter is a great time for a coffee date. A date with hot drinks is a simple and cozy winter option. Some coffee houses even have fireplaces and soft pillows. If you don't like coffee, there are other options for you – hot tea, hot chocolate or milk. So, if you feel cold, then just have a cup of hot drink and enjoy your communication.
Don't let the cold and darkness break your mood
In winter, we don't want to go outside. We just want to stay home, cover ourselves in a warm blanket and drink hot drinks. But thus you are pausing your life for several months. If you stop dating whenever it is cold outside, you will only worsen the situation! Go dating and find a woman who can embrace you at cold winter nights.
This is only a small part of what you can do in winter together. Turn on your imagination, and then neither you nor your soulmate will feel boring in the frosty winter day. Turn your dates into a winter fairy tale!
Even if you know a million cute winter date ideas, this doesn't guarantee that it will pass smoothly and successfully. Here are some sings you should check after the date if you wonder how well did you cope:
The date was excellent if, during it, none of you had a desire to get distracted by their phone or seemed bored, you did not even touch your phones. Usually, people switch their attention to the screen, check or read something if they are bored or embarrassed, but when the conversation is interesting, you do not want to miss a word.
The interlocutor was surely interested they send you a friend's request at social media, accepted your request, or left you a few likes. This means their interest has only increased, there is a desire to continue communication in the future.
The meeting lasted quite a while. Let's say you have agreed on meeting briefly to have a cup of tea together, but in the end, it all grew into few hours of passionate conversation, a spontaneous visit to a cinema, or a late evening meal at a restaurant.
They were looking you straight into the eyes, not trying to look the other way. Some people get acquainted to have nothing more than sex when it is so, they continue to asses every inch of the interlocutor's body. But when people want to know more about you, they keep eye contact. It is not for nothing that the eyes are considered the windows to the soul.