Flowers on the first date with a Ukrainian woman are as important, as rings at a holy matrimony. But what should these flowers be like, which ones to choose, and how to give flowers on a date? Let's try to figure this out.
When dating Ukrainian women, you should keep in mind that the first evening you spend with your Slavic companion is an incredibly important event; the fate of your relationship depends on it. And that's why every detail has to be chosen carefully: your clothes and shoes, a meeting place, the right words to say, and, of course, a beautiful bouquet of flowers! It's a perfect sign of attention for a Ukrainian lady, so you don't have to search for other gift ideas for girls.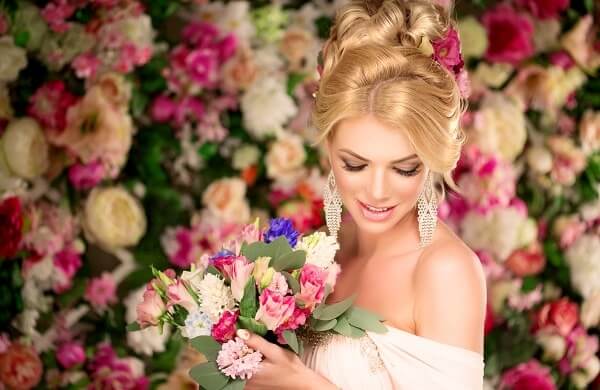 How to choose flowers for a Ukrainian woman?
Dating Ukrainian girls is a tricky process. Each one has her own preferences, so you should choose wisely. One of the most popular flowers for the first date with a girl from Ukraine is a rose. This queen of flowers is truly beautiful, and its unforgettable odor won't leave your companion indifferent. The red rose has long become a synonym for romance; white, pink, and cream roses represent tender feelings. It's the best choice when you date a Ukrainian girl.
A perfect option for a date is gentle and romantic chrysanthemums, symbolizing happiness and sincerity, which are especially popular in Japan. A bouquet of three to five chrysanthemums (precisely three or five flowers; the number of should be uneven) will look great in the hands of your Ukrainian girlfriend.
Lilies, symbolizing hope, are also a nice choice for first date flowers, while gladioli or carnations are not, as well as too bright roses of acid colors or iridescent chrysanthemums.
Size matters
When bringing flowers on a date, make sure that the bouquet is not too heavy and bulky. Of course, your desire to prove yourself rich and generous is pretty understandable, but if it's your first evening together, giving a too expensive bouquet is a sign of bad taste; besides, carrying such a weight is annoying. Consider choosing a small bouquet that's easy to carry in one hand and can fit in a vase on a restaurant table. Moreover, in a large bouquet, flowers start wilting much faster, and when your companion gets home, she'll probably have to throw out almost half the flowers. And it won't leave the best impressions of you and the date.
Choosing the right bouquet for the first date
1) Only one flower
If you're worried about your girlfriend's comfort or just like minimalism, give only one flower. But not a rose! For the first date, a bright gerbera, a branch of a bush rose, or one chrysanthemum will also work just fine. And if you want to come across as an original and unordinary guy, give her a protea.
2) A bouquet without a wrap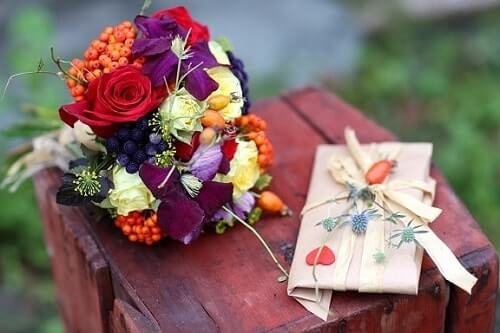 When choosing flowers for a Ukrainian lady, try to make the bouquet look as natural as possible, so it looked like you just made it yourself. Let the bouquet be simply bandaged or wrapped in paper packaging. This way it will look much more natural and sincere.
3) A flower in a pot or bouquet in a box
We are talking about so-called stabilized flowers. They work great as gifts for girls not only for the first date but also for other occasions, such as birthdays and anniversaries. Such flowers have three advantages. Firstly, a bouquet or pot can be put in a gift bag, so your companion doesn't have to carry it in hands. Secondly, you may not worry about the flowers wilting (such a gift will last much more than one evening). And thirdly, flowers in pots and stabilized bouquets look beautiful and stylish; besides, it's an original gift that will become a wonderful reminder of the first date for several months or even years.
As for the color scheme of the bouquet, you should take your lady's age into account. Flowers of light colors fit best for young girls, and burgundy or red roses would work only if you date a Ukrainian woman over 30. Also, color has its own specific meaning. For example, white color symbolizes purity and sincerity.
Giving white roses is considered the best love confession. Yellow flowers bring joy and smiles, giving positive emotions. Red and pink are the colors of passion. Bright and unusual combinations, such as yellow-blue, orange-violet, and pink-yellow are for extraordinary personalities. If you choose a bouquet for a woman who's more than 35 years old, stick to red or purple hues.